Anyone Looking For a Google Reader Alternative?
If we leave aside oil military force control of media outlets or food resources and a bunch of other things I guess we could say that information is power without any worries that we're wrong. When it comes to information we all know that Google is a giant and Google Reader is a product that managed to bury a lot of RSS-reading programs so discovering alternatives to it is always a pleasant surprise. Today we're going to talk about WebReader a totally free and even cross-platform piece of code that brings that Google Reader magic straight to your desktop.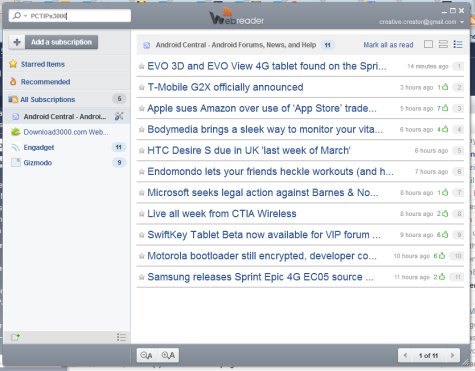 WebReader requires Adobe AIR and works on all platforms that support it - obviously the three major ones - Windows Mac OS X and Linux. To be honest I don't think its features beat some of those old school RSS readers I used in the past but it's surely a great Google Reader alternative - after all WebReader synchronizes with Google's RSS Reader and allows you to subscribe or unsubscribe to any feeds you want group your feeds in folders star items perform searches or get various recommendations.
While WebReader doesn't come with any special features as I was saying it's surely good to know that you can easily share any item viewed via email Twitter or Facebook so if you want a standalone application to replace Google Reader you just found a pretty good one! Unfortunately I must also admit that WebReader seems pretty memory hungry with about 80 MB of memory used after adding just four subscriptions... but since RAM seems to be pretty cheap these days I don't think many of you will consider this a problem.
These being said... what's you opinion on WebReader? Will you drop Google Reader for it or not? That's all folks but don't be shy and drop a comment below all right? Thanks in advance for your time! ;)