Get Older Versions of Windows Programs
As you surely know the last version of a Windows program is always the most optimized good looking reliable and useful version of that program... NOT! Sure it may be cute to believe that but truth is often different. New versions of a program can be bloated with ads and spyware without adding any special features or improvements/fixes the program may stop working on older hardware from a certain version upwards or it may just come with a bunch of bugs.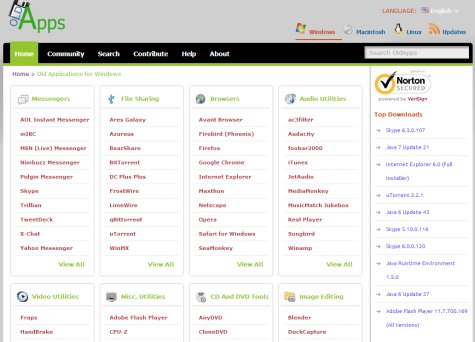 OldApps.com Homepage
No matter the reason sometimes you have to use an older version of a certain program but what can be done when that version is no longer available on the official website and not even on download sites like FileHippo?
OldApps is one of the possible answers providing old versions of Windows Macintosh and Linux programs nicely grouped in a bunch of categories including Messengers File Sharing Browsers Audio Utilities Security Tools Drivers and more (for Macintosh and Linux some of the categories present in the Windows section may be missing).
Next to OldApps there's also a similar site called OldVersion. Here there are available for download 17536 versions of 692 programs for Windows Mac and Linux as well as a bunch of old games including MS-DOS titles from the early nineties such as Prehistorik. Here the category names are more straightforward including Utilities Security Graphics Multimedia or Development but their number could be reduced a bit. For example there's a Multimedia category but also Graphics or Internet and FTP. I am sure you got the idea...
... so why not pick one of the two awesome resources I mentioned above and then "downgrade to the version you love" of a software title. After all "newer is not always better" and I tend to agree with this more and more with each new software update that takes me backward instead of forward.