Auslogics Task Manager: Free System Utility
Auslogics Task Manager is a free system utility that helps you to monitor processes that are using your RAM CPU Internet bandwidth and Disk Usage. Whenever we want to close an unresponsive program or see the processes that are using system memory we open the Windows Task Manager. It provides necessary information about the processes and the memory they are using. But if you want to get some more information comparing to what Windows Task Manager is providing you Auslogics Task Manager is what you are looking for.
This free system utility can provide you information about what processes and applications are currently running on your PC with CPU network and disk memory usage graphs. You will get to know about all the services running on your PC along with their current status and other necessary information. There is a section about locked files where you can get a list of locked files on your PC. You can also think about unlocking them from there if you want. The performance monitor and the Control Panel can be easily accessed with the help of this free Windows Task Manager alternative.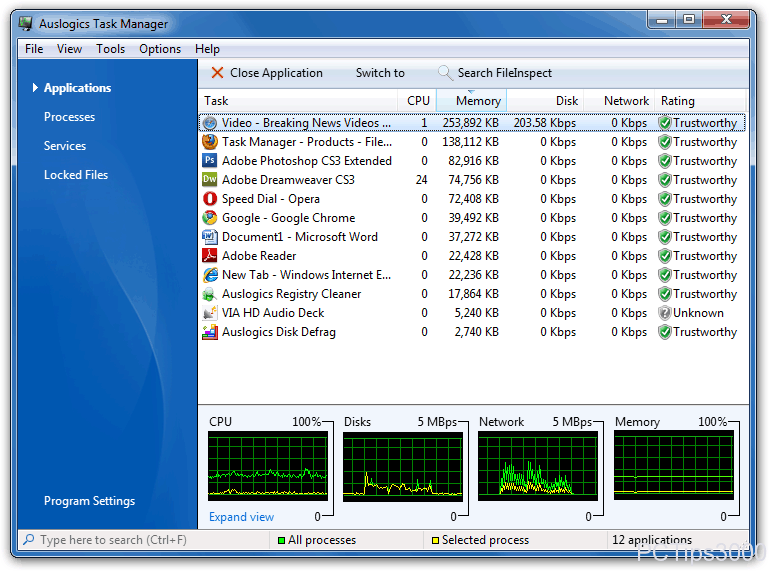 This free task manager comes with simple and easy interface like the Windows Task Manager. You will find about services applications processes and the locked files on the main window. If you are confused about something and want to know how to use this free Windows Task Manager alternative you can visit Auslogic Software's official website and check the FAQ page. Overall it's a great software for those who are looking for a good and free Windows Task Manager alternative.
Features of Auslogics Task Manager:
Get detailed information on the processes that are using RAM CPU Internet bandwidth and disk usage
Find Trojans that are hiding in the legitimate processes
Manage internet traffic processes services and disk activity easily
Auslogics Task Manager is available for download at Auslogic Software's official website. It's only 4.34MB in size and supports Windows 7 Vista XP Server 2008 and 2003. Try Auslogics Task Manager Free