Automate Form Filling with RoboForm
RoboForm will prove as your savior if you are tired of typing the same boring information while filling online application or registration forms repeatedly. With the help of this application you can automate and expedite the process of filling out online forms. The application is smart and populates the blank fields available on the form with the corresponding values. If you are using your personal computer or laptop PC at your home using even store your credentials for various sites. This will eliminate the need of typing your usernames and passwords whenever you try to log on to any site. The application is totally compatible with Microsoft based operating systems and therefore it is used by majority of home users and in offices around the globe.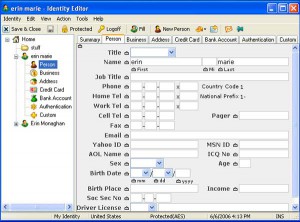 Pros
Evaluation version of RoboForm is available for testing purposes.
Populates almost any field with a single click.
It is lightweight and therefore never slows down other running processes and services of Windows operating systems.
Compatible with Windows XP Windows Vista and Windows 7.
The application is not very costly and can be afforded by almost anyone.
Cons
Compatible with Internet Explorer only. Does not work perfectly well with Mozilla Firefox or any other Internet browser. (Extra plugins and overhead is required to make it work with different browsers).
Interface can be a bit confusing for first time users.
Since Roboform contains a database that stores users' personal data it can reveal your sensitive information in a single go if your system becomes victim of any hacker's attack.
Download Link: http://www.roboform.com/