Clean Flash Cookies with Flash Cookie Cleaner
Flash Cookie Cleaner is a free file management software that helps you to clean passwords log-on data and other information stored on your hard drive as flash cookies. People visit some specific websites regularly where they don't want to enter the same data twice. And these flash cookies save those data on your hard drive and some other personal information that you are not interested to share with others. That's where Flash Cookie Cleaner comes to help you.
Flash Cookie Cleaner is a small free cookie cleaning software that helps you to delete flash cookies from your system completely. It can scan for flash cookies and let you decide if you are interested to delete them. Not all the flash cookies are bad for your system so it's up to you to decide which one you want to keep and which one should be deleted. This free cookie cleaner will also help you to decide which ones should be deleted.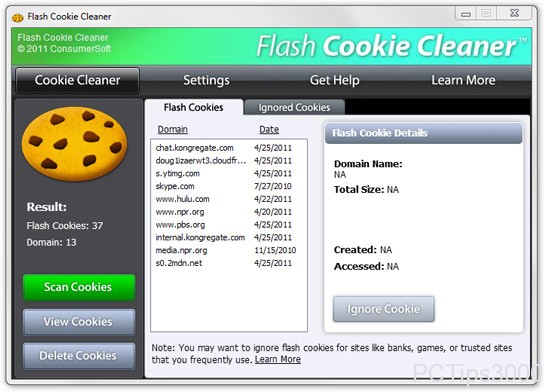 This free flash cookie cleaner comes with a colorful and simple user interface. You will find three options on the main window view delete and scan cookies. But the scanning process starts automatically when you launch the software. You can take a look at the search result and identify them by their address. Highlight or ignore cookies for deleting them. If you want to clean all the unnecessary flash cookie files that are stored on your PC Flash Cookie Cleaner is the best option for you.
Features of Flash Cookie Cleaner:
Clean flash cookies from your PC
Get detailed information about flash cookies stored on your hard drive
Colorful easy-to-use interface
Flash Cookie Cleaner is available for download at FlashCookieCleaner's official website. It's a portable software that supports Windows 7 Vista and XP and is only 1.64MB in size. Try Flash Cookie Cleaner Free