Clean Your PC with EasyPC Cleaner Free
EasyPC Cleaner Free is a powerful free system cleaning utility that helps you to keep your PC clean. This free system utility works as a registry cleaner and a disk cleaner to keep your PC clean. If you are looking for a powerful free system cleaning utility that works effectively and is easy to use EasyPC Cleaner Free is the best option for you.
This freeware helps you to remove all the unwanted junk files from your PC to improve your PC's performance and to make it run faster. You will be able to free up a lot of space in your hard disk. If you don't want others to check your internet browsing histories you can clean them with this free cleaning utility. This freeware also comes with a feature rich registry cleaner which means you don't have to worry about the corrupted and invalid registry entries.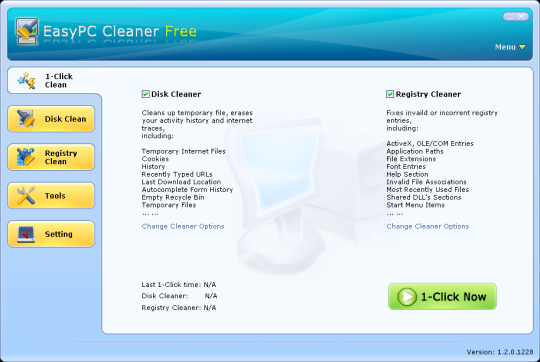 This free system cleaning program's user interface is attractive and easy to use like its name suggests. You will find a big "1-Click Clean" button on the main window with other options like Disk Clean Tools and Registry Clean. After analyzing your PC you can uncheck the things that you don't want to remove and let this freeware do his job. This free system cleaning app can handle the cleaning operation quickly without any problem.
Features of EasyPC Cleaner Free:
Remove unwanted junk files from your PC easily
Comes with a fully featured registry cleaner
Easy 1-Click Cleaning option
EasyPC Cleaner Free is available for download at EasyPC Tool's official website. It's only 3.65MB in size and supports Windows 7 Vista XP Server 2008 and 2003. Try EasyPC Cleaner Free