Create a New Domain User Account in Windows Server 2008
An important part of any client/server network architecture is the user accounts that are created in the domain. User accounts are known as domain accounts as they are authenticated by the domain controller and can be logged on using any computer that is a member of the domain. Creation of domain user accounts is quite simple however managing the permissions and security measures might sometimes be challenging for new administrators. Administrators can use command line interface and some scripts to automate the creation of user accounts in bulk but in case if you want to create a domain user account using graphical user interface of Windows server 2008 you are required to follow the steps given below:
1.       Logon to Windows server 2008 domain controller with domain admin account.
2.       Click on Start button and at the bottom of menu in search box type DSA.MSC command and press enter key.
3.       Right click on any container or organizational unit where you want to create a new domain user account and from the available menu point the mouse pointer to New.
4.       From the available submenu click on User.
5.       Populate the fields according to the labels mentioned in the opened box.
6.       In User logon name text box specify the name you want the user to use while logging on to the domain.
7.       Leave User logon name (pre-Windows 2000) field intact and click on Next button.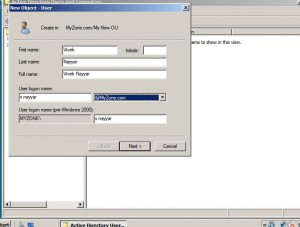 8.       On the next box type and retype a complex password in their respective fields and click on Next button.
9.       On the final page click on Finish button to create a new domain user account.