Create Local User Accounts in Windows Server 2008
When Windows server 2008 is installed on a computer system it is installed as a client operating system which means that no Active Directory Services are initiated during the installation. This further means that even in Windows server 2008 local users and groups can be created and if the machine is configured as a client of any domain controller the computer is said to be a member server. Whatsoever the case is if a Windows server 2008 is configured as a member server and local user accounts are needed to fulfill some requirements as an administrator you can follow the steps given below to create the accounts:
1.       Logon to Windows server 2008 with Administrator account.
2.       Click on Start button and from the appeared menu click on Server Manager.
3.       On the opened box in the left pane expand Configuration tree.
4.       From the expanded list double-click on Local Users and Groups.
5.       From the center pane double-click on Users.
6.       Right click anywhere in the center pane and from the appeared menu click on New User.
7.       On New User box populate that required fields with appropriate information and uncheck User must change password at next logon checkbox.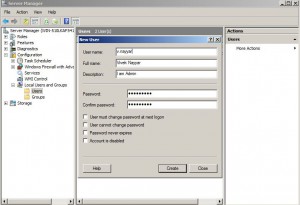 8.       Once done click on Create button to create the user with the specified name.