Customize Your Cursor with CursorFX
CursorFX is a free desktop enhancement tool that helps you to customize your Windows mouse cursor. You can improve your cursor's visual appearance and make it look more attractive. If you are tired with the look of your typical Windows cursor and want to change it to something attractive or 3D CursorFX is what you are looking for.
This free desktop enhancement tool is developed by Stardock and is free to use. With the help of this tool you can turn your cursor into a light sabre or something that you want. You can change your typical cursor with something slick and beautiful or something dazzling. You will find a lot of options online in Stardock's user gallery. Almost anybody can try to change their cursor with the help of this software as it's really easy to use.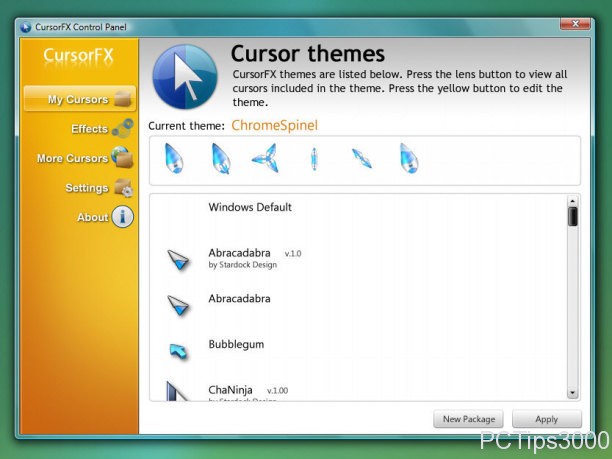 CursorFX comes with an intuitive and attractive user interface. You won't need any help file to start using this attractive software. All the basic functions are available for free. But if you are looking for some more creative tricks to change your cursor there is a paid version available for $19.95. You will find features like bubble trails and color changing in the paid version. It takes only 1MB of RAM and don't slow anything. If you own an XP Vista or Windows 7 based PC you can improve your cursor's look with this free desktop enhancement software.
Features of CursorFX:
Improve the look of your cursor
Turn your typical cursor into a sleek dazzling cursor
CursorFX is available for download at Stardock's official website. It's 14.28MB in size and supports Windows 7 Vista and XP. Try CursorFX Free