Delegate Administrative Controls to Normal Users in Windows Server 2008
In medium to large scale organizations where there are several organizational units active and there are limited numbers of administrators it becomes quite feasible to delegate some administrative tasks to any comparatively intelligent user. With the help of Delegation of Control feature available in Windows server 2008 administrators can delegate some administrative privileges on any organizational unit to any user without promoting him as an administrator of the computer. If you want to delegate administrative tasks to any user account you are required to follow the steps given below:
1.       Logon to Windows server 2008 computer with any account that has domain admin privileges.
2.       At the bottom of start menu in search box type DSA.MSC and press enter key to open Active Directory Users and Computers snap-in.
3.       Locate and right click on the organizational unit for which you want to delegate controls and from the available menu click on Delegate Control.
4.       On the appeared welcome page click on Next button.
5.       On Users or Groups page click on Add button to select the user or group to whom you wish to delegate the controls and click on Next button.
6.       From Tasks to Delegate page check the desired tasks that you want to delegate and click on Next button.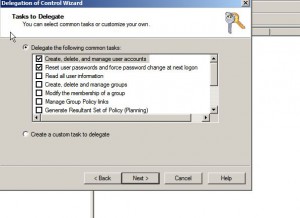 7.       On Completing the Delegation of Control Wizard page click on Finish button to finalize the settings.