Delete Protected Objects in Windows Server 2008 Domain Controller
Windows server 2008 has a new feature which adds an extra layer of security by preventing any object from accidental deletion. Whenever an object is created in Windows server 2008 domain controller there is a checkbox that confirms if administrators want to prevent the object from deletion by mistake. Once the object is created and the checkbox mentioned above is checked not even the administrators are able to delete the object whatsoever. This configuration is to protect the network infrastructure from any misuse however if as an administrator you still want to delete any created object you need to unprotect the object by following the steps given:
1.       Logon to Windows server 2008 domain controller computer with domain admin account.
2.       At the bottom of start menu in search box type DSA.MSC to open Active Directory Users and Computers snap-in.
3.       On the opened snap-in click on View in the menu bar and click on Advanced Features from the available list.
4.       Locate the object which is protected from accidental deletion and you want to delete and right click on it and go to its Properties.
5.       On Properties box go to Object tab and uncheck Protect object from accidental deletion checkbox.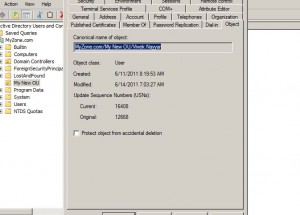 6.       Click on Ok button to make the changes permanent.