Disconnect Other Users from a Windows 7 Computer
Because of fast user switching feature in Windows 7 administrators can allow other users to log on to the computer without logging off their own accounts. This means that other users can log on to the computer with their accounts without logging off any other already logged on account. This feature enables users to allow other users to use the computer without terminating their own sessions and losing their data. This further allows them to save a lot of time. However in some cases administrators may want to forcefully terminate the session of any logged on user because of various security reasons. As an administrator you can do so by following the steps given below:
Logon to the computer with administrator account.
Right click on the taskbar and from the appeared menu click on Start Task Manager.
On Windows Task Manager box go to Processes tab and click on Show processes from all users button. (This will open elevated Task Manager box).
Go to Users tab.
You will be displayed with the list of user accounts are still logged on but are not currently active. Right click on the user account you want to disconnect and from the appeared menu click on Log off.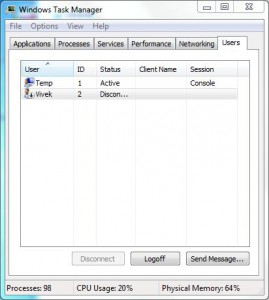 Note:
Make sure that you always use elevated task manager box while performing above mentioned task. If not you will always get Access is denied message while doing so.