Download Everything with BitComet
In today's world P2P sharing is quite common and BitComet is considered to be one of the best torrent clients for the purpose. When talking about torrents they are very small files and are used to download large applications in small bits (fragments). The files need to be seeded by other users in order to get downloaded. There are several other torrent clients available on the Internet which are freeware and can easily be downloaded. However the only difference between each torrent client is the features that it provides the flexibility and user friendliness and most importantly the speed it offers while downloading. There are some lightweight torrent clients which are of few kilobytes in size but are not as efficient as the BitComet. Below are few pros and cons of the specified torrent client which will help you in taking appropriate decision whenever you plan to get one for yourself.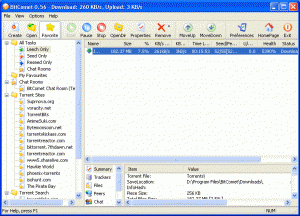 Pros
It is a freeware.
Offers preview feature which is not available in other torrent clients.
Contains built in list of torrent sites from where various torrent files can be downloaded.
Provides stars and moon symbols indicating your experience in using the application.
Can be configured appropriately and smartly to get the optimum results.
Cons
To get the optimum performance you need to have a user name and password registered with the application.
Needs administrator credentials when installed in Windows XP. (In Windows 7 no such limitation is experienced till date maybe because of virtual registry store).
Comparatively large in size. (Approximately 7.52 MB)
Interface of BitComet might be a bit challenging for new users.
Download Link: http://www.bitcomet.com/