Download HD YouTube Videos!
At the end of last week I discovered Home. Yeah I am talking about the HD YouTube movie that already got over 500000 views in a few weeks and a lot of people are talking about. I know this isn't exactly a PC tip but you should spare two hours to see it and reflect about it for a while. Anyway seeing this movie made me eager to download it and that's exactly what I did. Unfortunately I didn't manage to get it in HD resolution but...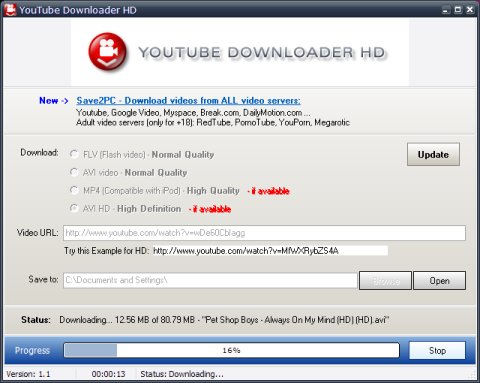 ... at least I managed to get some other HD videos off YouTube and that's exactly the trick I want to tell you about today! After all if you ever watched some YouTube HD video I am sure you also wished to download it and that's exactly where YouTube Downloader HD steps in the spotlight!
Sure I know everybody's talking about YouTube downloaders since I am sure there are plenty of programs and tricks to make you capable of downloading YouTube videos but I think that - at least until somebody proves me wrong - YouTube Downloader HD is the best tool one can use to get some excellent 1280X720 HD videos without breaking a sweat and now I will prove you why...
First of all YouTube Downloader HD is a clean program - no ads no toolbars no spyware nothing like that. Even better it's completely free and using it is as easy as 1-2-3!
Once you installed YouTube Downloader HD you should find some HD video on YouTube and paste the link right into the Video URL field. If you don't want the video to end up somewhere deep in your Documents and Settings folder you should also pick a download location. At last be sure to choose the video format to be used for saving the video and press the Start button.
Depending on your connection speed the video will arrive on your computer sooner later or never. Well... that's not exactly depending on your connection speed and since nothing is perfect I should also point out the fact that YouTube Downloader HD wasn't able to get the HD version of the Home movie I mentioned in the beginning and also failed to get some other HD clips as well but I must say I was very happy with its overall success rate.
Since I mentioned video formats above but didn't say anything specific I think you should know that YouTube Downloader HD can save HD media as iPod-compatible MP4 files (no Mac OS X version available unfortunately) as well as normal quality and HD AVI files. Other than these... I guess it's trial and error!
Before we split ways I have to remind you that - no matter if you liked this article or not - all your comments are appreciated. In this case giving the others a hint about your YouTube HD videos downloads success rate would be a good way to start... ;)