Efficient Diary Portable: Free Electronic Diary Software
Efficient Diary Portable is a free electronic diary software that helps you to organize your private thoughts with images tables and thoughts. If you want to maintain a journal in your PC and is looking for a good free personal information software Efficient Diary Portable is the best option for you.
You can keep track of things like your daily activities travel food habit and other daily life activities by keeping a journal or a diary. But most of us don't get the time to maintain a diary. If you are also among these people you can now start keeping a diary in your PC with this free electronic diary software. You can create entries in your diary daily and carry it with you on a portable device. If you don't want others to read your entries you can protect your entries with password.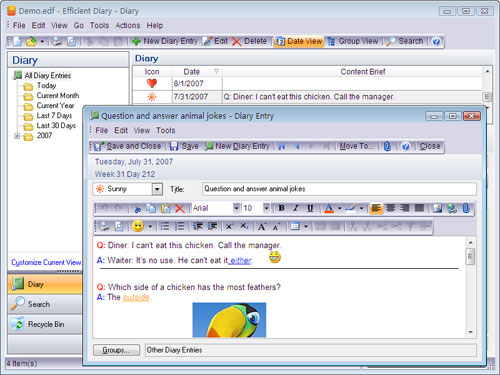 The user interface of this freeware is sleek attractive and easy-to-use. You can access to your previous entries easily from the tree hierarchy available on the left side of the main window. All the entries can be nicely organized into groups and specific themes. You can make your entries look wonderful with pictures attachments and text formatting features available in this free digital diary software. There is a flash full-text search technique available in this freeware that helps you to quickly search for things in your diary.
Features of Efficient Diary Portable:
Manage journal or diary easily
8 interface styles for creating journal
Powerful document editor with easy to search option
Protect your entries with password
Efficient Diary Portable is available for download at Efficient Diary's official website. It's only 4.61MB in size and supports almost all versions of Windows starting from Windows 98. Try Efficient Diary Portable Free