Find, Download and Play HD Videos with Vuze
Vuze is a free BitTorrent client that helps you to find HD video content on the web download and play them. This freeware is based on the Azureus' BitTorrent foundation with a video discovery networking and videos published by users combined by social networking. If you are confused you should know that it's the former Azureus we are talking about.
You might think that what Vuze offers is nothing new and other BitTorrent client also offers these features. You are not completely wrong but this free BitTorrent client is doing the same thing in an attractive and unique way. If you have used Azureus you won't find the advanced tab option as My Library took its place. There is no sign of Azureus in this latest version but there is a three-step guide available in this free BitTorrent software on demands of users. It will help you to get adjusted to the new interface of Vuze.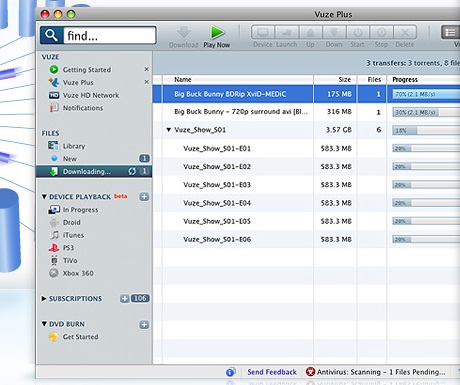 If you are an iTunes user you will find the interface similar. The search engine is improved which means you will be able to find your favorite music video or any other HD video almost instantly with this free BitTorrent client. But there are negative sides too. It takes a lot of memory when running and the search box can't be customized. But it is possible to set private trackers if you want.
Features of Vuze:
Search download and play HD videos on PC and other portable devices with Meta search
Download HD videos with just a single click with P2P BitTorrent technology
Plus users can enjoy improved messaging
Intelligent bandwidth management
Vuze is available for download at Vuze's official website. You will be taken to third party site to finish the downloading process. It's 8.16MB in size and supports Windows 7 Vista XP NT 2003 2000 Me and 98. Try Vuze Free