Firefox Theme of the Week - Noia 4
Oh my!!! This week has just become much brighter than I could have ever expected! The reason? I just discovered that my favorite Firefox 3.x theme Noia 2.0 (eXtreme) got a new version that works like a charm with Firefox 4 and to make it all even better we're not simply talking about an update to the old theme but a completely new one that uses about the same graphics offering a lot of options and new features such as transparent titlebar for example. Ready or not here we go...

Noia 4 reached version 1.2.3 on the 30th of April works with Firefox 4.0 - 6.0a1 and has been downloaded by 57302 Firefox 4 users already. Still in an experimental stage Nokia 4 has a rating of 5/5 stars after 46 user reviews and looks works and feels great. The rest of it is background noise and nothing more trust me!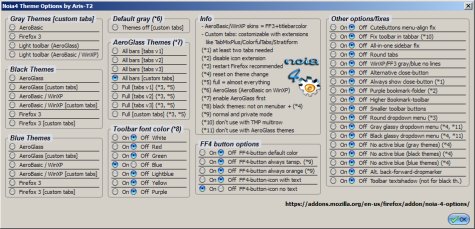 All right all right - if you want to hear more here's more: first of all you should always get the last version from this page no matter its status with Mozilla; since version 1.2 Noia 4 integrates the Theme Options addon that allows you to mess with an impressive array of settings as you can see in the screenshot above; this Firefox 4 theme offers support for Windows 7 / Vista Aero effects; it looks simply awesome and that's all!!!
These being said I think there's no need to add anything else - just go ahead and grab Noia 4 will you? I really hope you'll like it at least enough to keep it around for a week or two because I'm sure of one fact - no matter how cool may be the Firefox themes I'll bump into in the future I'll always get back to Noia 4... ;)