Firefox Theme of the Week - Nuri
This week it seems we're going back in black but since I get tired of seeing the same dark themes over and over again this time it's a black Firefox theme with a few interesting twists especially a lot of animations to make your browser look more alive but at the same time without making it look ridiculous. The name of this theme is Nuri and according to its author "is dedicated to the most wonderful girl on earth Nurida."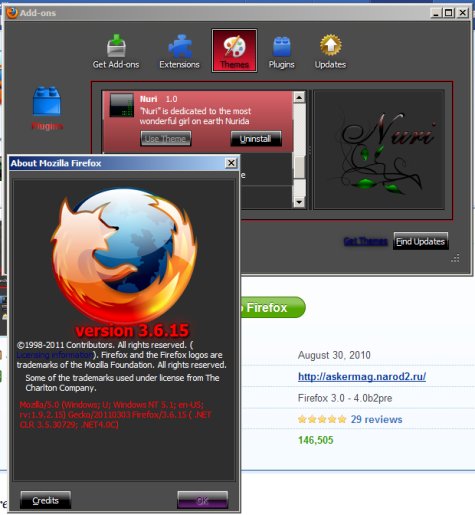 Still at version 1.0 Nuri was released on the 30th of August 2010 and works with Firefox 3.0 - 4.0b2pre having a rating of 5/5 stars after 29 user reviews and no less than 146505 downloads. Unfortunately it seems this Firefox theme doesn't work with more recent Firefox 4 versions so I guess you'll have to stay by 3.6.x's side if you want to enjoy Nuri...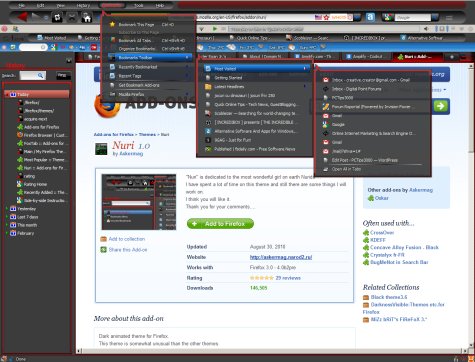 ... but all I have to say is that this Firefox theme is worth it and nothing more! Really it's great to see that despite the fact it comes with a lot of animations here and there Nuri doesn't have any glitches (at least I wasn't able to spot such a thing yet) and everything feels great. In the end that's what really matter not to make your friends go "WoW!" and then continue to curse the issues of your Firefox theme that's only awesome at first sight... ;) ... so all I can say is "thank you Nurida for inspirind this beautiful Firefox theme" and I really hope that the guy who made Nuri finds the time to update it and make it compatible with Firefox 4.