Free Online Image Editing With PicMagick
With each new Internet user a new "free image editor" search ends up in Google sooner or later. Oh well... maybe it's not exactly like that but I can surely tell you that a lot of people are looking for easy ways to retouch images and I can't think about anything more straightforward than an online image editor. Since we talked about such things before it's a pleasure to get back to this topic and today we'll take a quick look at one tool that's pretty basic yet looks and works great namely PicMagick.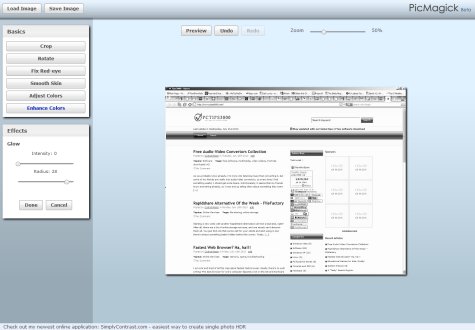 Still a Beta service PicMagick is really easy to use allowing you to crop/rotate images fix that annoying red eye effect smooth skin adjust/enhance colors and nothing more - at least for now obviously! Working great with virtually all major browsers PicMagick can open BMP JPG GIF PNG and TIFF files while saving is done in the same format as the source image (at least that's what I can conclude after my short experience with this little toy).
If you simply need to perform some basic adjustments and you don't want to install anything PicMagick may not be the best solution but it's surely one worth keeping an eye on. After all why open a huge online image editor when you only need to turn a color image into sepia and save it? ;)