FrostWire: BitTorrent So Easy
FrostWire is a free BitTorrent client that can make file transferring process easy from and to your PC. This free file sharing utility was based on LimeWire earlier but now it's based on the BitTorrent network entirely. The previous version of FrostWire supported Gnutella but the latest version dropped it entirely.
The latest version of FrostWire comes with many exclusive features. This free p2p client handles torrents nicely but there is still room for improvement for the search engine. You can perform firewall to firewall file transfers easily without any problem. If you love music you will be able to download a full album without any problem with this free peer to peer file sharing client. But the problem with the latest version of FrostWire is you won't be able to download a single song with this free p2p client. Some people also complained that the build-in community chat is not working properly.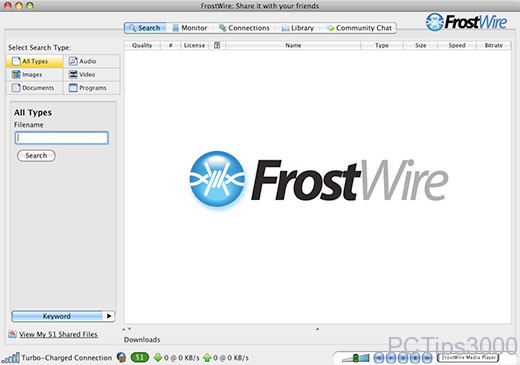 This free BitTorrent client comes with simple yet attractive interface. You will be able to download torrents with maximum speed if you have good internet connections. Junk result filters are more effective now and the turbo charged download speeds feature is also impressive. The latest version supports proxy and iTunes. You will be able to connect to more sources and it is no bundled software of any kind that you see usually. And all these features are available for free.
Features of FrostWire:
Supports Firewall-firewall transfers
Effective junk result filters
Supports BitTorrent Proxy.
iTunes integration
Download speeds can be increased with Turbo-Charged feature.
Supports BTIH magnet torrent downloads
FrostWire is available for download at FrostWire's official website. It's only 10MB in size and is available for Windows Mac and Linux. Try FrostWire Free