Game System Requirements Tool
3.9 MB of space required as a portable app Windows and a computer - that's all you need to solve a problem that seems like a huge wall to some users - answering the rather simple question that is "Can my computer run this/that game properly?" but without any doubt a question that a lot of people are asking themselves these days. Well... you may not get an answer for all the games that were launched in the last few weeks but Flitskikker InfoTool surely gets the job done so here it is!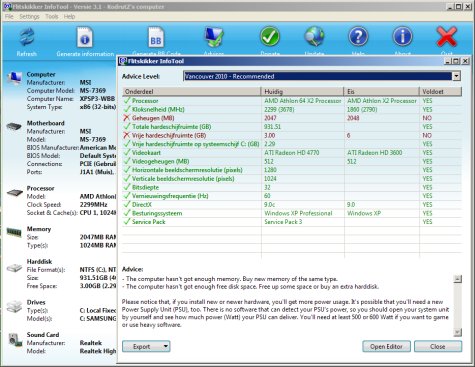 As I mentioned earlier Flitskikker InfoTool is available as a portable app but you can also grab the setup package and install it like a regular piece of code or if you really need there are also older portable/setup versions of this program for Windows 9X/Me! All can be found right here and using this program is a piece of cake despite the fact that by default it doesn't come in English. Anyway there are only a few menus to mess with until you locate the English setting and it all becomes... ehem readable. ;)
While Flitskikker's capabilities don't include anything special like benchmarking it's great to see how easy can be to use its database to compare your system's specs with the ones required by a certain game. Even more you can easily export the details on your system for use on forums/wherever you need since the system report can be saved as regular text or BB code to make it look nice on sites that support it. Oh yeah - the BB Code can be also easily converted to HTML if needed. Sweet!
Other than the above I don't think there's much else left to say about this excellent free tool for Windows maybe only the fact that every time you fire up Flitskikker a popup window asking for a donation to the developer appears. If you can live with that... I guess that's all for today! ;)