Get Complete Protection with AVG Free Edition 10.0.1209
AVG anti-virus comes in two flavors namely freeware and shareware. AVG Free Edition is mostly used by home users because it never gets expired and is free of cost. The installer file is approximately 151.24 MB in size and can easily be downloaded from the official website of the antivirus application. Commercial copy of this antivirus can also be obtained directly from the website however you need to pay for it using your credit card or some other source. With the latest version of the software LinkScanner Active Surf-Shield is integrated which scans the webpages before opening them in your web browser. Because this antivirus software is in the market since quite a while it has gained a decent reputation and have remarkably improved its efficiency.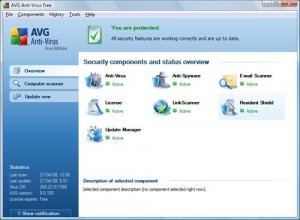 Pros
Provides real-time protection to the PCs.
Automatically updates itself directly from the server within the pre-configured time intervals.
Offers user friendly interface which allows users to work with the application smoothly.
Capable of scanning and automatically deleting the malicious files without any user interaction.
Cons
Because the application is capable of detecting even the weakest virus users may sometime get frustrated because of several notifications and application blockings.
As the malicious or suspicious files are automatically deleted sometimes even important files are also lost because of this aggressive nature of AVG Free Edition 10.0.1209.
Download Link: http://www.freeavg.com/?lng=in-en&cmpid=free