Get Rid of Malware with Malwarebytes Anti-Malware
Malwarebytes Anti-Malware is a powerful anti-malware software that helps you to remove malware quickly from your PC. It can perform a quick scan in only 8 minutes while the other memory killing programs are running and remove malware from your PC. It is designed to remove the latest spyware and malware with its effective removal capabilities and quick scans. If you are worried about your PC's defense and looking for an effective anti-malware application Malwarebytes Anti-Malware can be a lifesaver.
This free anti-malware software is filled with some nice features and there is a paid upgrade available for $24.95 if you want to enjoy some more features. You can scan multiple drives and these drives include networked drives too. If you are facing difficulties when trying to remove a lock file you can try this free anti-malware tool's FileAssassin feature. It can easily remove locked files without any problem. The interface is user-friendly and is very easy to organize.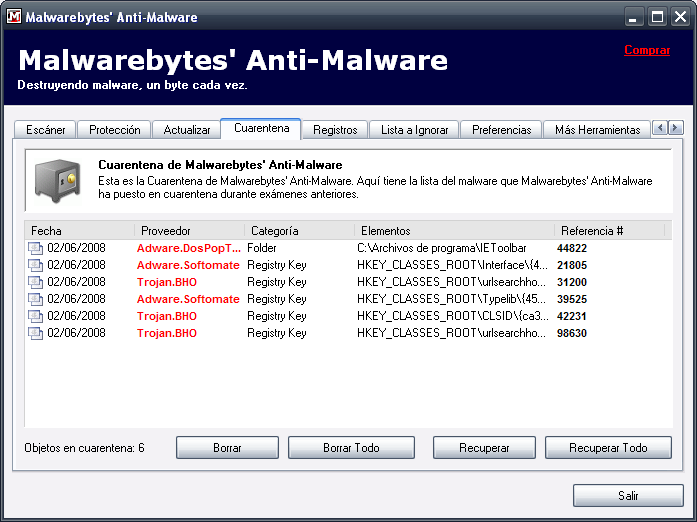 You will find the installation process quite fast. But the only negative side of the program is it offers real-time protection to the paid version users only. The latest version of this free anti-malware software features some fixed updating issues and GUI language bugs. It can easily detect false positives and harmful software and remove them accordingly. Let's take a look at the features offered by this free anti-malware software.
Features of Malwarebytes Anti-Malware:
Effectively removes malware and spyware
Performs quick scan in a very short time even when high memory killing programs are running
Supports multiple drive scanning
Remove locked files with FileAssassin option
Supports Windows 7 Vista XP 2003 and 2000
Malwarebytes Anti-Malware is available for download at Malwarebytes official website. The installer is only 9MB in size and supports Windows 7 Vista XP 2003 and 2000. Try Malwarebytes Anti-Malware Free