The funny part about Google's recent improvements to its Internet search services is that a lot of people consider them annoyances before anything else so instead of going "Wow I really think that Google Instant is an awesome feature!" there's nothing but "What can I do to get rid of Google preview suggest and Google Instant NOW???" I keep hearing from some of my buddies. Well since most of these people I know are Firefox users I decided to find a solution for their problem... so I bumped into GoogleEnhancer today's topic!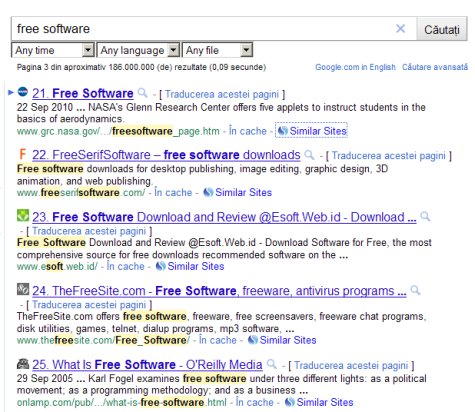 GoogleEnhancer is a Firefox addon that is very easy to install configure and use freely available for everyone and having the following coordinates: current version is 1.87 released on the 13th of April the rating is 4/5 stars after 44 user reviews and no less than 335898 downloads while compatibility seems nothing less but impressive with the official Mozilla.org page I mentioned above claiming that GoogleEnhancer 1.87 works with Firefox 1.5 - 4.2a1pre. Now that's something don't you think?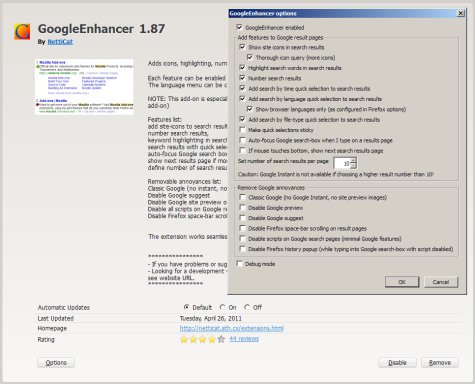 GoogleEnhancer has also another home on the Web available here where you can find a bunch of other Firefox addon that you may find useful but let's leave those aside since I have to add some of that official mumbo-jumbo about today's topic purpose don't you think? Well... "(SEO) Improves Google search results by adding site-icons results numbering keyword highlighting quick selection to search by date by language and by file-type. More options available. Removes Google annoyances as -Instant or -Suggest." Not really a well written description but well done when it comes to messing with the options and the way GoogleEnhancer works.
Should I say anything else? Yes just one more thing: grab GoogleEnhancer as soon as possible you won't regret it! ;)