How to Block Search Spam in Google Chrome
Everytime when i want to search something especially a review about a product i get false results and spam results. I hate that i just want to read about that product i don't want to see unrelated results or so called Made for Adsense websites. How this kind of websites are working? The webmasters are manipulating the relevance of resources indexed by a search engine by using two methods: link spam and content spam.
Google is trying to limit search spam but the main problem these days is with the content farms. That's why Google launch a great extension for Google Chrome Personal Blocklist.

With Personal Blocklist you can blacklist certain domains/hosts from the results you will get in Google Search. You can define your own patterns and Personal Blocklist will transmit to Google the URL of the page you blocked. If you realised you made a mistake you can unblock the URL/pattern.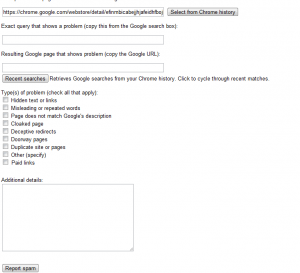 Another great tool also from Google is Google Webspam Report. Using Google Webspam Report you can report to Google the webpageor site that is misbehaving. You can send also links from your browser's history. Just type the website's address the query that generated the spam and resulting Google page that shows the problem. Also you can choose the type of the problem.