How to Connect or Disconnect a CD/DVD ROM or Floppy Disk Drive in Virtual PC?
Just like physical PC CD/DVD drive and Floppy Disk Drive can be connected and disconnected to a virtual machine as well. The difference is that in physical machine if you want to disconnect any drive you need to open the system case and pull out the cable connected to the device whereas in Virtual PC you just need to check or uncheck the checkbox in order to connect or disconnect any device respectively. Below are the steps using which you will be able to connect and/or disconnect virtual CD-ROM drives virtual floppy disk drives and sound card of a virtual machine.
In Virtual PC Console box from which you want to disconnect a device and click on Settings button.
On the Settings page in the left panel select CD/DVD Drive and in the right panel uncheck Attach CD or DVD drive to secondary IDE controller checkbox and click on Ok button.
To disconnect floppy disk drive you need to select Floppy Disk on the right panel and then uncheck Automatically detect floppy disk checkbox. This will disable the automatic detection of floppy disk on a virtual computer.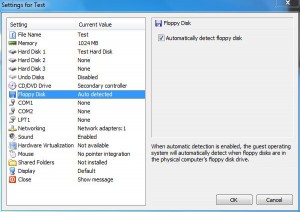 To enable or disable the mapping of sound card available in the physical machine with the one in virtual machine you need to follow the steps below:
From the left panel select Sound and from the right panel uncheck Enable sound card checkbox to withdraw mapping and click on Ok button. To  re-map the sound card you need to check the check box again.