How to Create and Link a New Group Policy Object to an Organizational Unit in Windows Server 2003?
Organizational unit is a container to which group policy objects can be linked. While working with Organizational units you can either link an existing group policy object or you can create a new group policy object to link it with the OU. You can create and link a new group policy object to an Organizational unit by following the steps given below:
Log on to the domain controller with the administrative privileges.
Click on Start button.
From the start menu go to Administrative Tools and from the submenu click on Active Directory Users and Computers.
Expand the domain name right click on the Organizational unit for which you want to create a new group policy object and from the context menu click on Properties.
From Properties box go to Group Policy tab and click on New button.
Under Group Policy Object Links list give appropriate name for the newly created group policy and click on Ok button. If you want to configure this group policy object now you can click on Edit button to open the configuration snap-in.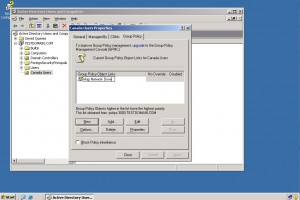 Best Practices:
It is recommended that you download Group Policy Management Console tool which is freely available on Microsoft's official website. This tool gives you all the group policy object options under a single roof hence making group policy management quite handy and simple.