How to Provide Static IP Address on a LAN Card in Windows 7?
By default all LAN cards in Windows 7 (including Microsoft Loopback Adapter) are configured to obtain IP addresses automatically that is from DHCP server. However in some cases where DHCP server is not available you need to provide av IP address to the LAN card on your computer manually. Same is the case with Microsoft Loopback Adapter in which you need to provide a static IP address in order to enable it to communicate with virtual LAN card present on the virtual machine. Process of providing static IP address on physical machine is identical to that of virtual machine. Below are the steps using which you will be able to provide a static IP address to any LAN card available on your computer. However the example below is focused on specifying static IP address to the Microsoft Loopback Adapter.
Click on Start button.
At the bottom of the start menu in the search box type ncpa.cpl command and press Enter key.
On the Network Connections window right click on the icon of the LAN card which says Microsoft Loopback Adapter and from the context menu select Properties.
On the Local Area Connection Properties box select Internet Protocol Version 4 (TCP/IPv4) and click on Properties button.
On the Internet Protocol Version 4 (TCP/IPv4) Properties box select Use the following IP address radio button and provide the IP address of any range in front of IP Address text box. For this example let it be 192.168.0.1.
Provide subnet mask 255.255.255.0 in the Subnet mask text box and click on Ok button on all windows to accept and confirm your configuration.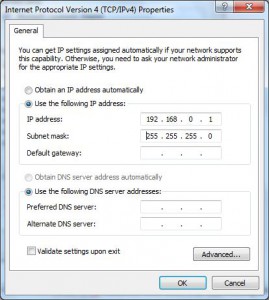 Virtual Machine Settings:
Once you are done you need to follow the same process to provide static IP address on  virtual machine. IP address should be different though. For example on virtual machine you can define 192.168.0.2 as IP Address and 255.255.255.0 as Subnet Mask to enable communication between physical and virtual machines.