How to Set Default Homepage in Windows 7 Internet Explorer?
When Windows 7 is installed default homepage that Internet Explorer has is MSN.com. Many times this might not be appropriate for many users and they may want to change this setting and set the homepage of their own choices. Changing default homepage might also prove handy when it comes to saving Internet bandwidth. This is because if users set the default homepage of their own choices they can directly view their desired information. On the hand if the default MSN.com page is left unchanged users may need to switch to the desired homepage manually hence consuming more time and bandwidth. To eliminate this trouble you can change the default homepage of Internet Explorer in Windows 7 by following the steps given below:
Logon to the computer with the user account on which you want to modify the default Homepage.
Click on Start button.
From the start menu go to All Programs and from the opened list click on Internet Explorer.
On the Internet Explorer click on Tools menu and from the drop-down menu click on Internet Options.
On Internet Options box make sure that you are on General tab and under Home page text box type the name of the webpage which you want to make default on Internet Explorer.
Once done click on Ok button to accept and confirm your configuration.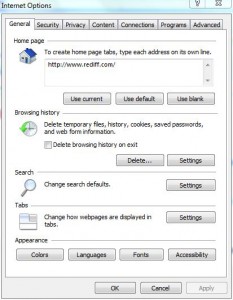 More Info:
If you want to restore the previous settings you can click on Use default button to do so. Also if you want to use a blank page as the default Internet Explorer setting you can click on Use blank button.