How to View Hidden Files or Folders in Windows 7 Computer?
Many users hide folders or files on their computers for security purposes and after some time they forget where they stored them. Since the files or folders are hidden they are not visible hence making search process complicated for the user. You can view hidden files or folders on a Windows 7 computer by following the steps given below:
Logon to the computer with any user account. (Feature of viewing hidden files or folders is user specific and will only be applicable for the user account using which it is configured.)
Click on Start button.
From the start menu click on Computer.
On the opened window from the menu bar click on Organize and from the drop-down menu click on Folder and search options.
On Folder Options box go to View tab.
Under Hidden files and folders category select Show hidden files folders and drives radio button and click on Ok button. Optionally you can uncheck Hide protected operating system files (Recommended) check box to view Windows 7 system files. (This configuration is not recommended though).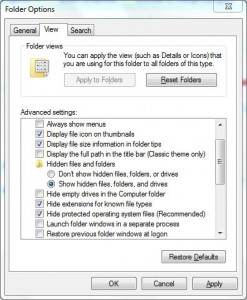 More Info:
You can reverse the above mentioned process if you don't want hidden files to be viewed by anyone.