Improve Your PCs Performance with WinUtilities Free Edition
WinUtilities Free Edition is a free system performance suite designed to improve your PC's performance. This free optimization suite is specially designed for Windows PCs for supercharging your PCs performance and to optimize and tweak its settings and security. If you have a lot of broken registry entries or junks from installed and uninstalled programs this free system performance suite is the best option for you.
There are many programs that leave a lot of file behind after uninstalling. Moreover most of us are downloading deleting things now and then leaving a lot of invalid files shortcuts and junk files. If you are also among these people you can download and install this freeware to improve your PCs performance and to free up some disk space. There is a registry cleaner inside the free system performance suite that cleans invalid registry entries to improve your PCs performance.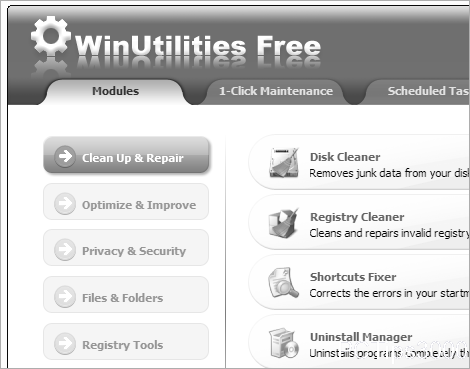 This free optimization software comes with intuitive user interface. This freeware comes with some powerful tools that help you to optimize and clean your hard disk and defragment your hard disk to improve its performance. There is also a memory optimizer included in this freeware that makes sure that your system's memory is working properly when you close a program.
Features of WinUtilities Free Edition:
Improve your PCs performance optimize and tweak its settings and security
Clean junk files and fix invalid registries
Improve system performance and free up disk space
WinUtilities Free Edition is available for download at Y L Software's official website. It's only 9.07MB in size and supports Windows 7 Vista XP 2003 and 2000. Try WinUtilities Free Edition Free