Install and Configure DNS Server in Windows Server 2008
In any small medium or large scale industry DNS plays an important role when it comes to connecting several computers in a single LAN environment. DNS helps a computer to recognize other computers on the network using Computer Names and users do not need to memories the IP addresses of the computers they want to connect. During the installation of active directory DNS server is automatically installed and configured however users can also install Domain Name Service in any non-active directory environment. In case the network setup is not very large and no client/server LAN infrastructure is required installing DNS server on any standalone server will be the best solution. As an administrator of any network if you want to install DNS server on a standalone server you need to follow the steps given as below:
1.       Ensure that you are logged on to Windows server 2008 computer with administrator privileges and open Server Manager by clicking on Start button.
2.       On the opened box from the left pane click on Roles and from the right pane click on Add Roles link.
3.       On the welcome page click on Next button and on Select Server Roles check DNS Server checkbox.
4.       Click on Next button.
5.       On Introduction to DNS Server page click on Next button.
6.       On Confirm Installation Selections page click on Install button to start the installation process of DNS server.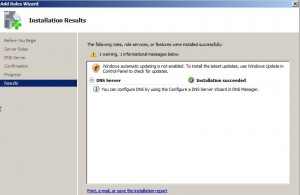 Install DNS Server
Note: You are required to assign a static IP address to the computer on which you want to install DNS server service.