Keep Track of Your Internet Usage with BMExtreme
BMExtreme is a powerful networking software that can help you to monitor system's bandwidth usage. You will be able to monitor your internet connection and check how much bandwidth is being consumed when you use the internet. It's a great networking tool for people who want to get the most out of their internet connection.
You will be able to get a customizable look at the system's bandwidth usage with the help of this network tool. You will be able to take a look at the megabytes received sent and total for a session or for a month. If it's not enough for you and you want to get a specific report you can open the configuration section and customize it in the way you want. You will find five different stats for monitoring your bandwidth's usage.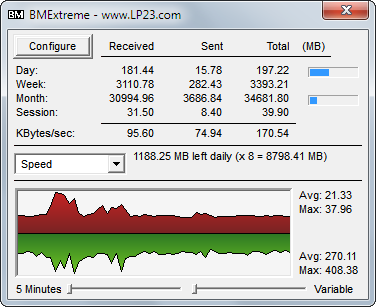 This advanced networking tool comes with easy to use interface. You will be able to get graph for IP list connection's speed and your PCs shared space with other PCs for a day or even for a month. This useful internet monitoring software can provide you detail facts and figures on your internet connection. If you are worried about your PCs performance then this networking tool is a good software for you.
Features of BMExtreme:
Monitor your internet connection graphically
Check your internet provider's cap limits
Keep track of your network or internet usage
BMExtreme is available for download at LP23's official website. It's only 11.33MB in size and supports all versions of Windows. Try BMExtreme Free