Macrium Reflect: Free Backup Software
Macrium Reflect is a free backup software that comes with easy disaster recovery solution for your Windows PC. You will be able to protect your personal e-mails music photos and documents easily with the help of this free backup software. If you are looking for an easy backup creating software with good recovery solution Macrium Reflect is what you are looking for.
If you are not using any free disk imaging software in your PC you might lose all your data when installing a new operating system or upgrading your hard disk. You won't be able to perform any operation safely without creating a backup. That's where this free backup software can help you. All your personal data will be saved securely in a recovered backup file and you can recover your data whenever you want. You can backup your data in USB drives local drive or network drive. You can also burn all your important files to DVD if you want.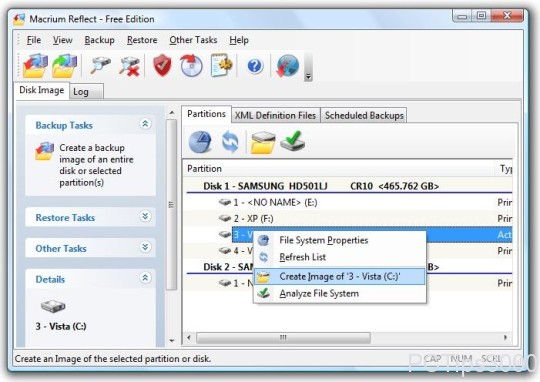 Using the software is very easy and you will be asked to view the online tutorials before getting started. In this way you will be able to get a hold of this program before getting started. You will find useful commands on the top of the main window and there are tabs for disk partitions images scheduled backups and XML definitions. You will understand almost everything with the help of wizard guides. Just select your backup location choose the backup type password compression type and destination and start creating backup. It's really that easy!
Features of Macrium Reflect:
Create backup and protect your personal files and documents
Supports USB drives network and local drives for creating backup
Easy-to-use intuitive user interface with helpful wizard guides
Macrium Reflect is available for download at Macrium's official website. It's only 31.44MB in size and supports Windows 7 Vista and XP. Try Macrium Reflect Free