Make Windows Server 2008 Domain Controller a Global Catalogue Server
When the first domain controller in the forest is created it automatically becomes Global Catalogue server which contains partial information of every object available in the entire active directory database. Global Catalogue server allows users and administrators to locate the objects which are listed in the database of active directory. When additional domain controllers are added to the forest or domain by default they are not promoted as a Global Catalogue servers. This configuration is to reduce the amount of network traffic that may occur while information replication between the Global Catalogue servers takes place. However in many network scenarios administrators may want to have multiple Global Catalogue servers for redundancy and fault tolerance. If you want to make a domain controller a Global Catalogue server you are required to follow the steps given below:
1.       Make sure that you are logon to Windows server 2008 domain controller with any account that has domain admin or enterprise admin privileges.
2.       From the start menu go to Administrative Tools and from the submenu click on Active Directory Sites and Services.
3.       From the opened snap-in expand Sites > Default-First-Site-Name > Servers and from the available list of servers expand the one which you want to make Global Catalogue server.
4.       Right click on NTDS Settings that you get from the expanded list and from the available menu click on Properties.
5.       On NTDS Settings Properties box of the desired server make sure that you are on General tab and check Global Catalogue checkbox.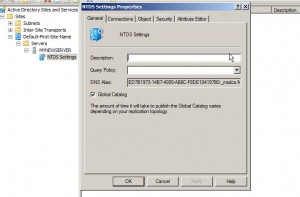 6.       Finally click on Ok button to make the server a Global Catalogue server.