Manage Lease Duration in DHCP Server in Windows Server 2008
When DHCP server is installed and configured on computer it is meant to assign IP addresses to the clients automatically. During the installation and configuration of any scope of DHCP server the default lease duration for any IP address is 8 days. This means that any requesting client computer can only use DHCP assigned IP address for up to 8 days at the most. In some cases where machines are not usually mobile and data traffic is not too high this configuration is quite appropriate and needs not any further modifications. However at some places or in some scenarios where several mobile computers are used and people keep on coming in and going out with the laptop PCs it becomes essential for the administrators to reduce the lease duration in order to maintain the balance of network bandwidth and availability of IP addresses. As an administrator if you want to reduce the lease duration you need to follow the steps given below:
1.       Make sure that you are logged on to Windows server 2008 computer with administrator account and DHCP server role and scope is installed and configured.
2.       Open DHCP snap-in and expand the server name.
3.       Expand IPv4 tree and right click on the available scope.
4.       From the menu go to Properties and on the General tab under Lease duration for DHCP clients section make the appropriate changes in the values.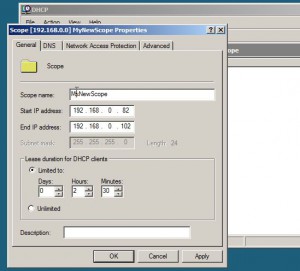 5.       Once done click on Ok button to make the changes permanent.