Monitor and Manage Network Efficiently with MyLanViewer
MyLanViewer this is a shareware application precisely used for network monitoring and management from a central location. With the help of this application administrators can view complete information about the computers which are connected to the local area network. The complete information of the nodes connected to the network includes IP addresses MAC addresses computer names etc. Users can understand the ambience of the application by recalling the interface of Group Policy Management Console (GPMC) which is a built in feature in Windows server 2008 and needs manual installation after downloading in Windows server 2003. The difference between Group Policy Management Console interface and MyLanViewer's ambience is that Group Policy Management Console displays only the information about the group policies whereas MyLanViewer displays the complete information about the computers connected to the LAN.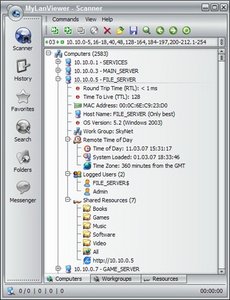 Pros
Shared objects of remote computers can also be viewed with the help of this application.
The interface works as a real-time display which means that whenever the state of any computer connected to the network changes the icon of that computer changes in the application as well.
Cons
Although the application provides complete information about machines which are connected to the network MyLanViewer does not offer many controls to the administrators while using the application.
Download Link: http://www.mylanviewer.com/MyLanViewer.zip