Palringo: IM Solution for All Networks and Platforms
Palringo is a multi-platform instant messaging client that supports every popular instant messaging network out there including Yahoo Messenger Windows Live messenger QQ Messenger Facebook Google Talk etc. This is not the end of the list. This freeware also features including POP3 mailbox in the list so that you can check your email from any device from which you are using Palringo. The best thing about this messenger is this free instant messaging app is available on every possible platform out there that can be connected to the internet. Starting from Java only mobile phones This free multi-platform instant messenger  is available for Windows Linux Mac OS iOS Android Windows Mobile and Windows Phone 7. The WP7 version is yet beta only but all the other versions are completely working and popular among the users.
Palringo has some unique features that has separated it from the other free multi protocol chat clients. For example the group features. You can easily create groups of your favorite topics and invite people to your group. There are already thousands of groups out there among which you are likely to find your suitable topic. In both group and personal IM you can easily share pictures and voice messages. The pictures are compressed automatically so you will not have to worry about picture size and bandwidth before sending any picture.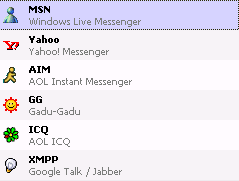 You will need an account to use Palringo which is absolutely easy to open and then add your networks one by one.  After that you are ready to chat with your friends from all the networks and from the next time you will not have to add those networks again.
Features of Palringo:
Available on all platforms and interconnected
Low Bandwidth demand
Very easy to use and useful groups
Supports all the popular networks
Palringo is available on their official website for free for all the platforms. Try Palringo free