Personal Blocklist (by Google)
I know you have to hate some website - am I right? You don't have to be in the business and hate your competition it's enough to bump into the same piece of crap on Google's first page of results over and over again to hate it but what can be done? In most cases reporting spam doesn't help since the truth is that most such spam sites become Google partners sooner or later and no matter what happens they remain on that first page to piss you off. Fortunately the solution to such problems comes from the same Google that allows such sites to get indexed and keep showing up in our search results. The name of this solution is Personal Blocklist and today it's a great pleasure for me to tell you a few things about it...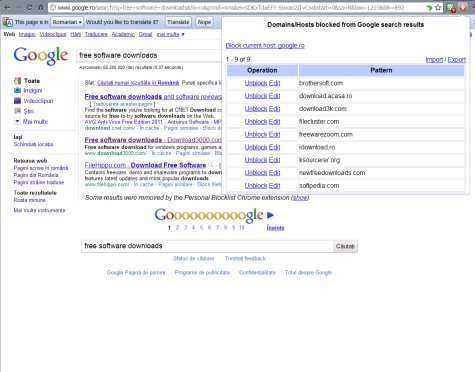 ... starting with the most important part: Personal Blocklist (by Google) is a Google Chrome extension that works like a charm and gets the job done wonderfully! Its job as I was saying earlier is to block domains/hosts from appearing in your Google search results nothing more. Sure one interesting twist allows you to block only subdomains of a certain host so instead of blocking the entire domain.com you can only block results from subdomain.domain.com from showing up in your results. Awesome!
If the above doesn't make you eager to take Personal Blocklist for a spin here you have the numbers: current version is 1.6 released on the 17th of March and having a rating of 4.7/5 stars after 791 user reviews and no less than 131559 downloads. Considering the fact that Chrome is still pretty far from Firefox in terms of popularity I could say that Personal Blocklist is one of its most popular extensions so... no need to waste your precious time any longer: take Personal Blocklist and help yourselves live in a world where Google delivers less crap and more relevant content than ever before!
That's all for today & this week I hope you'll have a weekend at least as awesome as mine. Good bye folks! ;)