If you want to save some of your precious time thinking in clicks is not something crazy at all. Obviously I am talking about mouse clicks. Can you believe that some people still open Google.com to search for stuff??? Sure you may say that there are still people driving cars built in the 50s but there's a little big difference between them - those classics may be expensive to maintain and use a lot of fuel but their maximum speed is not 25 mph! Considering the above if I can lower the amount of clicks needed to search something while using Firefox 4 then I surely will and Quick Search Bar is exactly the addon to help me get this job done!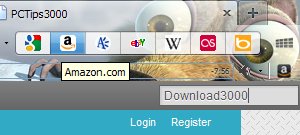 If you're using more than one search engine I am sure you'll enjoy reducing the whole process to a single click instead of two. Just think about this - until now you have to click twice to select the search engine to use then type in what you're looking for but thanks to Quick Search Bar all you have to do is click and type nothing more! Best of all once you do that the Search Bar returns to its previous state so you can use a different search engine by going the same way. Awesome!
When it comes to numbers you should know the following: as I write this the current Quick Search Bar version is 2.2.3 released yesterday and having a rating of 5/5 stars after 20 user reviews and no less than 10978 downloads. If you're still stuck with Firefox 3.x.x then I have to give you some bad news - Quick Search Bar only works with Firefox 4.0b10 - 4.0.*...
... but other than that everything about this Firefox addon seems great so it's my pleasure to strongly advise you to take it for a spin. That's all folks! ;)