Quick tip: How to Turn off the Annoying User Account Control
User Account Control ( UAC) is a useful solution that aims to improve the security of the Microsoft Windows system by limiting application software to standard user privileges until an administrator authorizes it.  This feature is very annoying for advanced users because if they know what they are doing they won't need to see annoying messages that ask them if they want to install a new application which can cause the system to become unstable.
Personally the first thing I prefer to do after installing Windows 7 or  Windows Vista is turning  off the User Account Control ( UAC). To do that just follow these steps:
1- Start > in the Search box type "User Account Control".

2- Choose "Change user Account control" from the list of results.

3- Then change the setting to "Never notify" .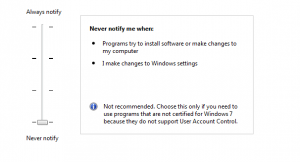 Then click OK.