Raise Domain Functional Level in Windows Server 2008
During the installation of Active Directory Services the default domain functional level is in Windows 2000 native mode. This configuration is appropriate when the network infrastructure has multiple flavors of Windows server operating systems and all are connected together to make the network run smoothly. However when there are only Windows server 2003 and/or Windows server 2008 domain controller is available in the network administrators may want to raise the domain functional level from default to Windows server 2003 and/or Windows server 2008. This allows administrators to exploit the features offered by the network operating systems at their full. As an administrator in any such network infrastructure if you want to raise the function level of the domain you are required to follow the steps given as below:
1.       Make sure that you are logged on to Windows server 2000 a domain controller with the account that has administrative privileges.
2.       Click on Start button and go to Administrative Tools.
3.       From the appeared menu go to Active Directory Domains and Trusts and from the opened snap-in right click on the name of the domain.
4.       From the menu go to Raise Domain Functional Level and from the opened box choose the appropriate functional level as required.
5.       Click on Raise button and on the appeared box click on Yes button to continue.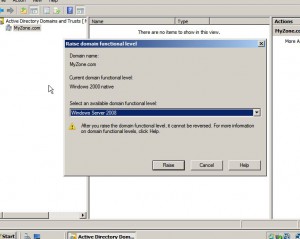 6.       On the confirmation box click on Ok button and close Active Directory Domains and Trusts snap-in.