Rapidshare Alternative Of the Week – File Apartment
Friday night... in fact it's already Saturday but it doesn't really matter: the time has come for another RapidShare alternative and today we're going back to the basics once again with File Apartment!
To be honest there's not much to say about File Apartment and I am sure some of you will say this simply doesn't offer enough features to be taken into consideration but think about this - as a free user you get to upload a file you receive the download link on your email address then send the link to the one who should get the file - only one download is possible so there's no need to worry thinking about "what ifs" as it happens to some of my paranoid friends when using such a service.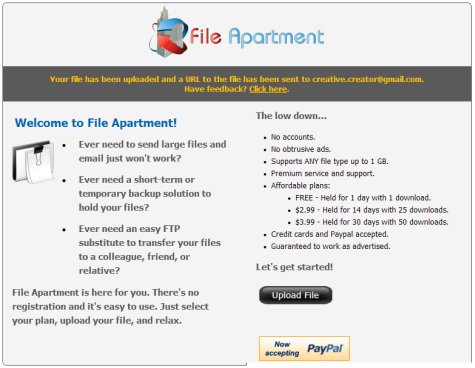 In the end the best part about File Apartment is that you get no accounts no captchas or countdowns while payments can be done for a single file and a certain number of downloads as well as a certain number of days to hold the file on the servers - 1 GB per file/1 download/1 day for free 1/25/14 for $2.99 and finally 1/50/30 for $3.99. Expensive or not that's up to you to decide - the free upload works for me prety well.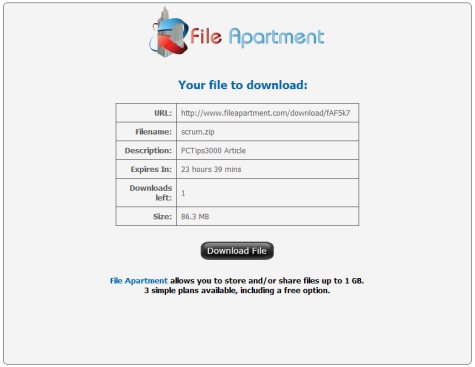 Oh yeah here's one more thing I should add - my own real-life experience with File Apartment: I uploaded a file having about 85 MB in size and I must admit it took some time for the process to complete but downloading that file was pretty fast and as I was just saying without any countdowns or captchas to bother me. That's all folks - File Apartment may not offer any trace of advanced features but it's surely a good choice for sending a single file that you want to forget about as soon as possible! ;)