Rapidshare Alternative Of the Week - FileFactory
Starting a new week with another RapidShare alternative can't be a bad idea right? After all there are a lot of online storage services and one simply can't discover them all. You just find one that works well for your needs and start using it but there's always something better hidden behind the corner. Today the time has come for FileFactory!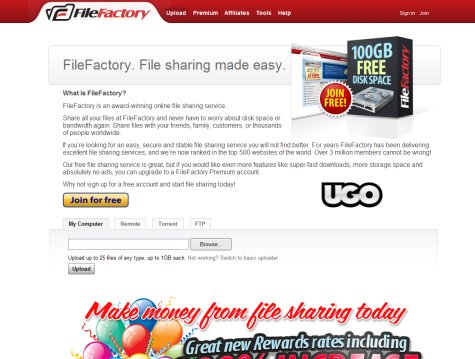 FileFactory allows you to upload files up to 1GB in size each absolutely for free but also provides FTP upload capabilities to its Premium members (you'll have to pay to become one obviously) a free streaming music service and a bunch of other goodies I am sure you'll be delighted to discover.
Speaking about my own experience with FileFactory as a guy who just opened it up and upload a file I should say that upload speed is really good (I uploaded a file having 434 MB in 10 minutes or so) but I can't say I am crazy about all the ads present here and there. At least I should also say that I don't like the captcha you have to face when downloading a file either. Oh well I guess you can't always have it all...
All in all FileFactory is surely one RapidShare alternative to try for free when you have to upload some large file. Hey you can even get a Premium account if you need those features! Just be sure to get back here and share with us a few thoughts about the bang for the buck offered by this online service all right? Good luck! ;)