Rapidshare Alternative Of the Week - zShare
If I look back a few weeks I can't help but smile when I realize how easy was today to find a RapidShare alternative interesting enough to tell you about but let me reveal it all - this didn't happen thanks to Google! The tool that helped me discover zShare is SimilarWeb an excellent Firefox addon. In case you don't remember SimilarWeb or you missed it back in early March you should definitely check it out - sometimes it's much better than Google trust me! These being said let's move closer to zShare shall we?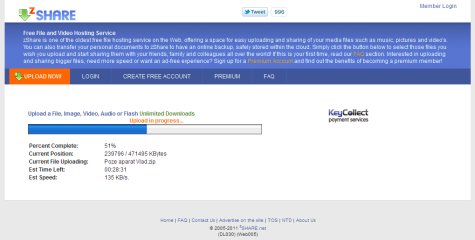 I know this is not something I do on a frequent basis when it comes to RapidShare alternatives but today I'll give you some of that official description of zShare mainly because it comes with some funny typos and despite that describes the service pretty well: "zShare is one of the oldest free file hosting service on the Web offering a space for easy uploading and sharing of your media files such as music pictures and video's. You can also transfer your personal documents to zShare to have an online backup safely stored within the cloud."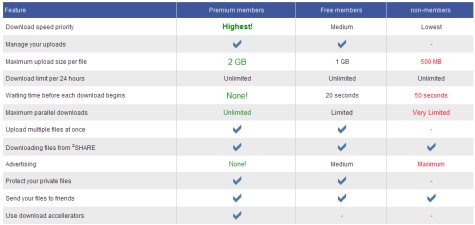 For premium/registered/unregistered users of the service those numbers we usually talk about look like this: maximum file size 2 GB/1 GB/500 MB waiting time before download 0/20 seconds/50 seconds then various differences when it comes to features - please see this page for details. Well I only uploaded and then downloaded a rather large file (~460 MB) without registering and all I can tell you is that zShare is pretty fast especially the upload part. Downloading as an unregistered user took much longer than uploading that file but I guess you can't ask unlimited everything for free right?
The conclusion is that despite heavy advertising and waiting times that are being thrown at people using the service for free zShare is a RapidShare alternative worth checking out. Oh yeah in case you were wondering about this let me close this article by adding one last bit of useful info - free or paying customer your files will be kept on the servers for as long as 60 days after the last download before automatic removal. That's all folks! ;)