Register/Modify Active Directory Schema Snap-in in Windows Server 2008
In active directory network infrastructure schema plays an important role as it helps defining the complete structure to the object classes and their attributes. Whenever an application is installed in an active directory domain controller schema is automatically updated and is modified according to the nature of the installed application. An example for this can be Exchange Server which tightly integrates itself with Windows server 2003 and/or Windows server 2008 and therefore it modifies the schema of the operating system on its own. In many cases however administrators may want to modify the schema manually in order to perform some special tasks. Doing this is not at all recommended but still if you want to modify schema on a Windows server 2008 domain controller you are required to register schema snap-in in order to get it in Microsoft Management Console or MMC. Process of registering schema snap-in is given as below:
1.       Make sure that you are logged on to Windows server 2008 domain controller with any account that possesses domain admin crown.
2.       At the bottom of start menu in search box type REGSVR32 SCHMMGMT.DLL and press enter key to register the schema.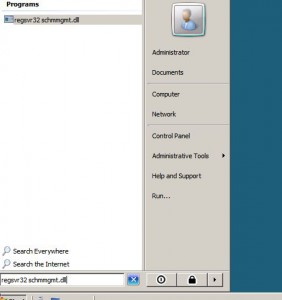 3.       Click on Ok button to acknowledge the confirmation of registration of schema snap in.
4.       In the search box again type MMC and press enter key to open Microsoft Management Console.
5.       On the opened console box go to File menu and from the available options click on Add/Remove Snap-in to add Active Directory Schema snap-in.