Remove Start Button from Taskbar with Start Killer
Start Killer is a free desktop customization utility that helps you to free up space on taskbar by removing the Windows Start menu. You might think that killing the Windows Start menu is not going to free up much space but it can help you to get rid of it if you don't need the Start button on your taskbar.
Most of us don't use the Start button on our start menu and want to get rid of it and this free desktop customization software helps you to do just that. You can access to your start menu with short Ctrl-Esc key and kill the Start button from the taskbar. You can get some extra space in your taskbar in this way and bring back the button whenever you want by closing this freeware.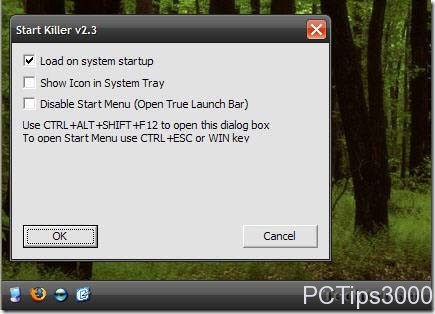 This free desktop customization tool is very easy to use. You can just launch the software and remove the button from your taskbar. If you want the Start button back just close it. When the Start button is not visible you can still access to it using the Win key or Ctrl+Esc key. You will find a small icon on the system tray when you are running Start Killer. If you are not interested to see the icon you can remove it too. You have to use Ctrl+Alt+Shift+F12 if you remove the icon from the tray to open its settings window.
Features of Start Killer:
Removes Start button from the taskbar
Easy-to-use user interface
Start Killer is available for download at Tordex's official website. It's only 198KB in size and supports Windows 7 Vista and XP. Try Start Killer Free