ScreenHunter Free: Free Screen Capturing Software
ScreenHunter Free is a free screen capturing software that helps you to capture a specific rectangular area of your screen or capture the whole screen easily. You can capture screenshots easily with the help of this freeware. If you are looking for a good free screen capturing software to capture your PC activities ScreenHunter Free is the best option for you.
This freeware allows you to capture full screen screenshots or screenshots from just an active window. After you are done capturing screenshots you can save them in JPEG or BMP format. You don't have to stop capturing screenshots after capturing one screenshot as this freeware don't have any limit for capturing screenshots. These screenshots can be stored in the clipboard if you want to use them in other program like Word or Motion Studio.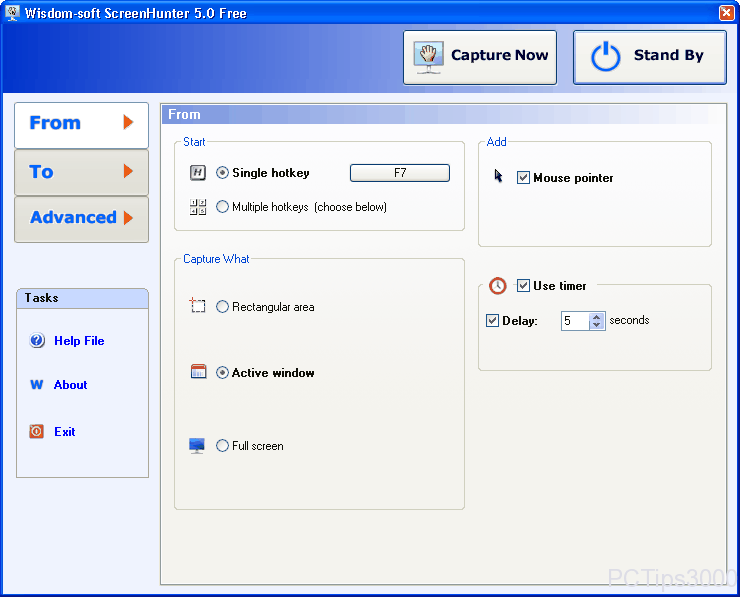 This free screen capturing software comes with an easy-to-use user interface. You can customize hotkeys for capturing screenshots and choose delayed capture if you want. This freeware won't use a lot of system resource on standby so don't worry when running the software. You will find the main screen big enough for capturing screenshots. You will find this free screen capturing software as one of the best screen capturing software for its simplicity and flawless results.
Features of ScreenHunter Free:
Capture screenshots easily and save them as JPEG or BMP file
Capture full screen screenshots or just the part of a window
Customizable hotkets for capturing screenshots
ScreenHunter Free is available for download at Wisdom Software's official website. It's only 4.84MB in size and supports almost all versions of Windows starting from Windows 98. Try ScreenHunter Free