Smart Web Search With Goby
Since my other half has been killing me lately asking for a nice trip somewhere I started checking various locations using the Internet apart from asking around most people I know. While I didn't arrive to any solid conclusion yet (she loves seaside I hate it) I bumped into a pretty smart Web search solution that would surely be very useful to a lot of people as long as they're living in the US or they're planning to go there.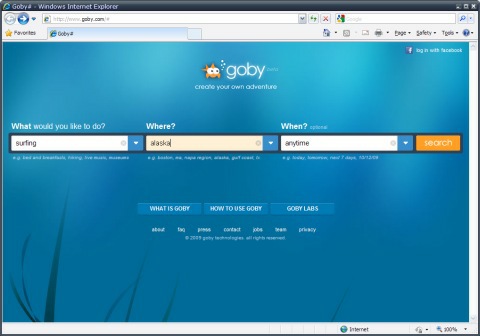 The name of the solution I mentioned above is Goby and its headline is "create your own adventure" a very inspired one especially if I think how tricky can be to search for some things on Google. Sure typing in something isn't tricky at all but I really got tired of seeing the first few pages full of pure SPAM so no matter how popular Google may be now the future belongs to specialized solutions. Some call them niched search services others call them smart Web search products it doesn't really matter the label it's the product!
This time we're talking about something you want to do in a certain location/area. Even more you can choose a date/period. For example I would go surfing in Alaska anytime no matter how strange it may sound - this is the first search that came to my mind only that I can't swim and even if I would I would surely go to Alaska to do anything but surfing... Since finding locations with Google for surfing in Alaska could also provide a lot of useless results and waste my precious time I used Goby to find them. The results? Outstanding!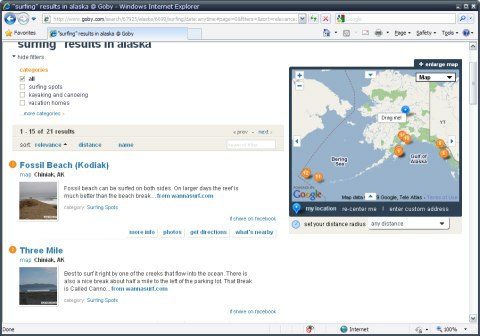 As I write this Goby is labeled as a Beta product but I think we're talking about a pretty good service - it even has a Facebook sharing feature easy to use and well done results filtering capabilities compatibility with all major browsers and... I think you should discover all that's remaining by yourselves! After all we're all going to do something somewhere no matter if it's a crisis or not...