Top 5 Windows Notepad Alternative
Whenever we think about a good notepad software Windows Notepad is the first software that comes in our mind. It is extremely easy to use and don't have any complex options. But if you are still looking for a good Windows Notepad alternative you will find them right here.
5. StickyNote
StickyNote is a simple text editor that can help you to create attractive 3D notes on your desktop. Notes created with this virtual sticky note software look very real and can be customized with various textures and colors.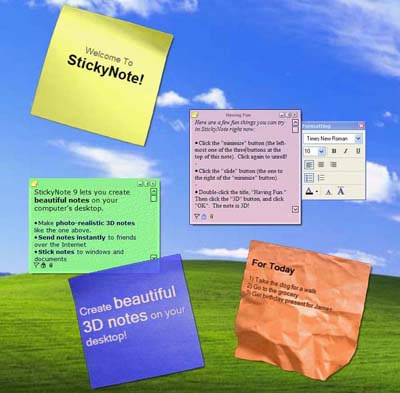 You can add web links and other important documents or files to your notes and send them directly via e-mail. You can also attach this software with a specific window if you want this free text editor to appear with a specific window. It also comes with a manager function which allows you to manage hundreds of notes. You can also set alarms with your notes if you want. But the negative side of this software is you have to pay $19.95 for using this software. You can think about trying the free 15-day trial version before trying this software if you want.
Try StickyNote Free
4. Simple Sticky Notes
Simple Sticky Notes is a free text editor that helps you to remind you of important notes created by you just like its name says. Once you start using this software you will be able to avoid yellow reminder papers that we use in our office.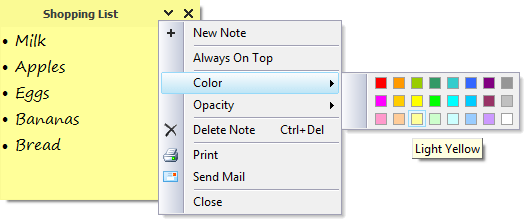 This feature rich text editor is very efficient fast and easy to use. You won't face any problem when creating notes with it as it supports RichText and Unicode. The latest version also supports Tweeting which means you will be able to share your notes directly with your Tweeter friends. You can also create transparent and colorful notes and print them if you want. Try Simple Sticky Notes Free
3. TED Notepad
TED Notepad is a free text editor that can work as a great free Windows Notepad alternative. You will be able to create documents quickly and easily with this feature rich text editor.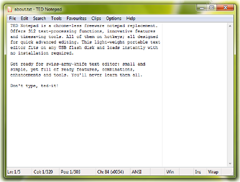 If you are a regular Windows Notepad user you will find this free text editor similar. You can open the software and start typing like you do in Windows Notepad. But the negative side of the software is you won't be able to change the color size and the font of the text. But there are some good features as well like fullscreen mode longest completion in complete word feature and other exckusive features.
Try TED Notepad Free
2. Notepad++
Notepad++ is one of the best free Windows Notepad alternative out there that can fulfill all your text editing needs. It is completely free and is very easy to use.
One of the best feature of this great software is you will be able to open multiple documents in tab interface. All your previously opened documents will be saved as a history and can be opened in a shortcut way. Syntax highlighting is another great feature of this free text editor.
Try Notepad++ Free
1. Post-it Digital Notes
Post-it Digital Notes is a paid Windows Notepad alternative that helps you to communicate organize or remind notes just like you do with a piece of paper. It's easy to use and can help you to get organized.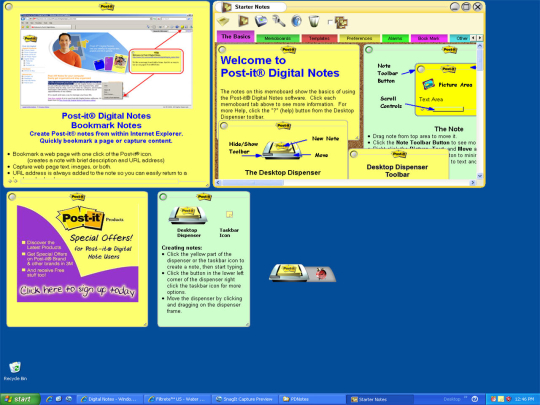 You will be able to send your notes via LAN MAPI and e-mail if you want. You can receive or send notes with password protection if you want to protect your notes from unauthorized access. You can send your notes to multiple contacts if you want. You will be able to add multiple mail servers including AOL Yahoo Gmail and Hotmail. It is compatible with Windows 7 Vista and IE8. But you have to pay $10 to enjoy all these features.
Try Post-it Digital Notes Free